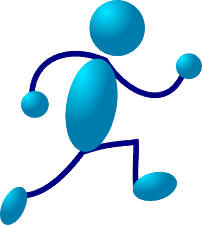 Get Fit, Stay Healthy and Get In Shape Using Common Sense Methods Based on Science, Not Fads!
Coronavirus update: If you cannot get fitness equipment to workout at home:
see this page for how to make your own barbell and weights VERY EASILY and for less than $75.
Are you looking for clear, understandably, information, backed by science and experience from professional trainers and physiologists that can help you implement and stick with your own personal fitness, health and diet routine? A workout routine that is practical and reasonable? And yet something free, that you can print off and follow without registering, filling out forms or being pitched to with popup ads and spam? Then you are at the right place!
Presumably you have come to the realization that the quality of your life depends upon
your health,

your level of fitness, and

your shape and appearance.
It's not enough to live long; the quality of your life matters equally! If you are sick, dying or unhealthy, nothing, apart from your health, matters! And without a reasonable degree of fitness to have strength and endurance to do the things you enjoy in comfort, even good health can't be enjoyed! Finally, even with health and fitness, like it or not, your appearance does have a huge impact on how others treat you; what jobs you get, promotions, dates, your self-esteem, costs for many things such as clothing, and comfort.
This website will provide the information, the understanding, and the methods to accomplish these goals. All you need to provide is the motivation, persistence and about 4 to 6 hours per week.
How to Workout for Fast Results in 4 to 6 hours per Week
This routine is suitable for both men and women - muscle tissue is the same; joint angles differ, and some goals vary; but this is a routine one that is designed to efficiently meet the needs of both men and women, using safe exercises that promote rapid improvement to:
get lean - lose fat
firm up muscle
increase your metabolism

Why this Website?
With thousands of health websites and almost as many fitness websites on the Internet, what sets this website apart is:
We're not pushing or selling anything; the website is funded by independent advertising and sales of related products with whose companies we have no relation other than we like their product;

The methods presented are based on empirical experience and backed by reputable science with references to sources provided; and

The authors have decades of training and experience as fitness trainers with a proven track record of success.
Ready to start?
Exercise